Discover tens of thousands of apps that let you do even more with your iPhone. Browse apps in categories from games to business, finance to fitness, and more.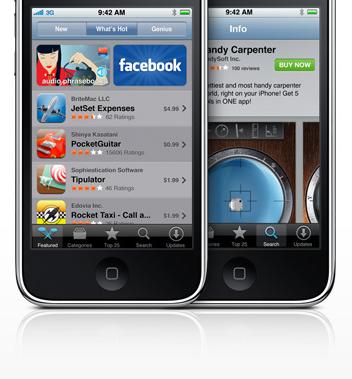 Browsing and Searching
Browse the featured selections to see new, notable, or recommended applications, or browse Top 25 to see the most popular applications. If you're looking for a specific application, use Search.
Browse applications:
Tap Featured, Categories, or Top 25. Choose a category, or choose a sorting method at the top of the screen to browse by lists such as New, What's Hot, Genius, Top Paid, or Top Free.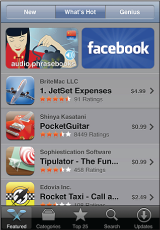 Browse using Genius:
Tap Genius to see a list of recommended apps based on what's already in your app collection. To turn Genius on, follow the onscreen instructions. Genius is a free service, but it requires an iTunes Store account.
Search for applications:
Tap Search, tap the search field and enter one or more words, then tap Search.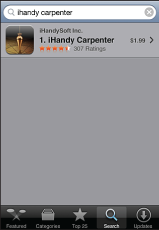 Download apps.
Find an app you like? Read the description and user reviews. Flick through a few screen shots. Then download the app wirelessly to your iPhone from anywhere, and start using it right away.
Stay up to date
iPhone tells you whenever an application update is available, so you'll always have the latest, greatest versions of your favorite apps.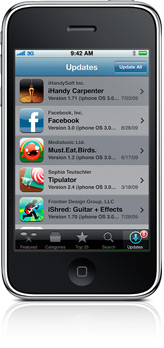 Get recommendations
If you're looking for a few new apps, try Genius recommendations for apps. Just tap the Genius button to see a list of apps you might like based on apps you've already downloaded.